Laser Tattoo Removal Near Me
Get your complete tattoo removal without worrying about scarring by Seminole's leader in tattoo removal. We have the best technology that produces optimal results for you.
TATTOO REMOVAL NEAR ME IN SEMINOLE, FL
Check Out How We Can Help
We Use the Latest
Advanced Techniques in Tattoo Removal
State of the Art Technology
Evanesce has invested in the industry-leading Astanza Trinity laser to perform all tattoo removal treatments.
We offer the highest quality tattoo removal in Seminole, FL.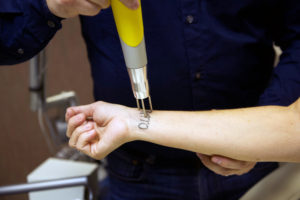 Tattoo Removal Process
Laser tattoo removal helps speed up the natural removal process by breaking the tattoo ink particles into tiny fragments that are small enough for your immune system to flush out.
Trey was great he explained the process and let me know how it worked, explaining before and during as we continued. I did my homework and looked around at different places considering the procedure itself is not cheap his prices were unbeatable. Can't wait for my next treatment.
The most thorough experience from beginning to end for tattoo removal in a great location! I really like that Trey has different lasers to use for dif colors and cares about getting results and explaing everything, plus the cooling treatment is nice instead of just numbing gel. Thank you!
I had an awesome experience at Evanesce. Booking the appointment was easy and the initial consultation was great for getting my questions answered… and I had many. My expectations were perfectly set and the laser specialist made me feel comfortable and confident throughout the process. I look forward to finishing up my removal with the folks at Evanesce.
TALES FROM THE TATTOO REMOVAL CLINIC
Recent Blog Posts
evanescelaser
https://youtu.be/YsmrvPRB1ck   One of our clients was kind enough to video the laser removal treatment
evanescelaser
I get questions every day about laser tattoo removal because it is an interesting and
evanescelaser
Should I remove my visible tattoos for a better chance at getting a job? (L.J.